7 tags
7 tags
6 tags
7 tags
8 tags
Foraging in the Garden + Shrimp Salad
For yesterday's dinner I made a salad with cooked spelt grains, cucumber, celery, julienned apple and shrimps and a wild garlic dressing. Now that I've turned to eating more plant-based food I find I do not take animal products for granted anymore. Therefore, I take extra care when I prepare a fish or meat dish, making sure everything tastes as special as they deserve to be. I...
6 tags
9 tags
6 tags
6 tags
7 tags
7 tags
The King's Cake
The idea for this cake was a bit tongue in cheek. As of yesterday, The Netherlands has a new king: Willem-Alexander. I felt like making something cheesy like a Koninginnerol (no actual cheese involved) but then I came across the Pavé du Roy, which translates as "The King's Cobblestones". The chocolate mousse originally meant to resemble the cobblestones but of course mine...
8 tags
6 tags
5 tags
7 tags
7 tags
9 tags
Easter Roundup
I've been a busy busy baker this Easter break.  Here's what I've been baking.  Easter Sunday On Sunday we had my grandmother over all day. I wanted to provide something sweet and savoury to have her try something she doesn't taste every day. Simnel Cake I love it when a baked good comes with an interesting history, so this cake with eleven marzipan orbs symbolising...
8 tags
5 tags
8 tags
Recipe: Ridiculously Delicious Vanilla Cookies
Quantitive testing has proven that human beings are incapable of resisting these cookies. The sheer simplicity of the recipe means that baking them is already very rewarding. Though the ultimate reward is, of course, tasting one. Or two. Or three.  [[MORE]] Originally, these are crescent-shaped cookies, also called Vanillekipferl in German. They are originally eaten around Advent and that was...
8 tags
7 tags
8 tags
8 tags
8 tags
8 tags
7 tags
8 tags
7 tags
A lot of cake
When my mother asked me to bake something sweet for a concert at a local library I obviously couldn't decline. Supporting your local library is important and I try to volunteer as often as I can. Seeing as the festivities were centered around the Austrian composer Joseph Haydn, I decided to do mini Sacher cakes as well as mocha hazelnut cakes. Looking back, I must say the task I had set...
8 tags
Lemon & Hazelnut Maracons
When life the supermarket gives you lemons… you make lemon macarons!  Of course I could use this space to complain about supermarkets that do not offer single lemons, but I'd rather be optimistic and resourceful and well… I like making macarons. With four surplus lemons you can imagine that this recipe was born out of pure necessity. The macarons are filled with a homemade lemon curd...
6 tags
7 tags
8 tags
8 tags
Tompoes (Dutch Mille-Feuille)
Today I tried on a pastry symbolic of Dutch patisserie: the tompoes. I think I can safely say that every single Dutch person has had their own struggle trying to eat one of these at a birthday party. [[MORE]] These layered pastries are incredibly tricky to eat with a fork, so often the cream will end up on someone's trousers. There are even famous articles written on how and how not to...
7 tags
6 tags
Recipe: Sachertorte
I have made Sachertorte three times and every time it was received with rave reviews. The Sachertorte has become one of my favourite cakes to bake and eat. The recipe, however, was sadly lingering around in my drafts because all the photos I took were so-so. As much as I love baking I can't bother to make another cake simply because I need a good photo. Heck, it should always be the other...
8 tags
8 tags
Recipe: Apfelstrudel for a Wintery Weekend
As I came downstairs yesterday my eyes were blinded by the whiteness of a snow-covered garden. Obsessed as I am I already started thinking about what wintery treat I would bake: perhaps coconut covered meringue snowmen? "I have to take a few photos before it is too late", I told myself, so I put on a coat over my pajamas, slipped into my wellington boots and went for a walk in the...
8 tags
8 tags
7 tags
6 tags
8 tags
7 tags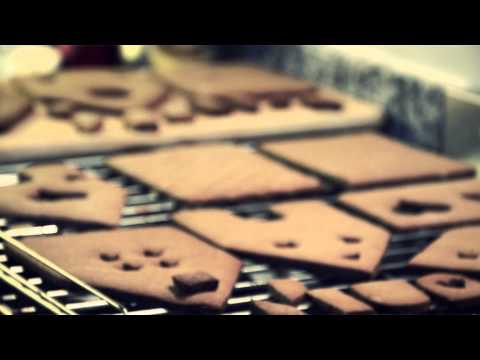 7 tags
7 tags
7 tags
5 tags
8 tags
Double Chocolate Tofu Brownies
Every day over the past month I would open the cupboard and meet a little packet of silken tofu waiting to be used. My sister and I figured we'd use it to make brownies. We used buckwheat flour, applesauce, vegetable oil, stevia and unsweetened cocoa powder to make room for the richness of two packets of dark chocolate chips and shredded coconut, also adding the dreamy flavours of vanilla...